To change the living conditions of Sri Lankan tea plantation children through improved housing conditions and income for their families.
Status: Completed | Number of beneficiaries: 1200 children from 2000 families
Project duration: 34 months, March 2017 – December 2019
Location: tea plantation areas in Sri Lanka
Project financed under a framework agreement by the Ministry of Foreign Affairs of the Grand Duchy of Luxembourg

Project summary
Local partner
PALM Foundation is a Sri Lankan organization that has been implementing holistic development programs for the plantation populations in the center of the country, as well as neighboring and remote villages, for more than 25 years. In order to develop empowerment and build community capacity, PALM Foundation projects are implemented through a participatory approach and through the creation of community-based organizations. PALM Foundation is involved in various fields such as:
Social mobilization and the development of women's representation and participation.
Infrastructure development, access to water and sanitation
Child protection
Natural Resource Management and the Development of Organic Farming
Health promotion and nutrition
Microfinance
Education of populations on different themes: gender issues and gender equality, civil rights, health and well-being of the elderly, the dangers of alcohol and other sensitization.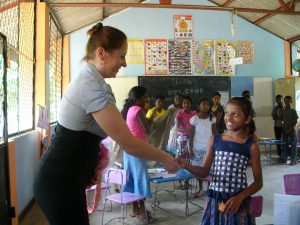 The problem
The tea plantation region in Sri Lanka is one of the poorest in the country with human development indicators below all national indicators. The high levels of poverty are due to several factors including:
Slight income increases, irregular availability of work, and almost total dependence on wages as a source of income
High number of dependents per household
Heavy alcohol consumption
Lack of access to basic infrastructure in different sectors: health, formal and non-formal education, water and sanitation, housing
Finally, plantation dwellers face major problems of health and environmental degradation due in particular to the use of dangerous agrochemicals and improper agricultural practices resulting in pollution and siltation of water sources.
Objectives / Activities
The aim is to improve the quality of life of the poorest inhabitants of the 15 tea plantations and villages concerned. To this end, the project aims to improve the sanitary quality of families through access to latrines and clean water for consumption. Roads, bridges and other accesses are being renovated to break the isolation of these populations and facilitate their mobility. Families are also supported in the establishment of an economic activity that will give them a second source of income (breeding small animals, local shops etc ..). The conversion of 600 farmers into organic farming can initiate a revival in the cultivation of land and raise awareness of the consequences of the use of chemicals on the environment and their health. In parallel, the project plans to strengthen the community organizations that guarantee the proper implementation and sustainability of the actions undertaken.
Beneficiaries
Direct beneficiaries: 1,200 children and their families