Sustainable access to drinking water, construction of latrines and showers, waste management and hygiene awareness in 4 tea plantations
State: Completed | Number of beneficiaries: 13,600 people
Project duration: 24 months, April 2015 – December 2017
Location: tea plantation areas in Sri Lanka
Project financed under a framework agreement by the Ministry of Foreign Affairs of the Grand Duchy of Luxembourg

Local partner
International Institute of Development Training (IIDT), is the non-profit branch of a consulting firm named EML, initially created by Ernst & Young and DHV Holland, before being entrusted to the local team in 2004. IIDT leads many development in partnership with major donors such as the World Bank and the Asian Development Bank, in construction, environment, socio-educational surveys, management consulting, vocational training, team coaching, evaluation of large-scale projects etc.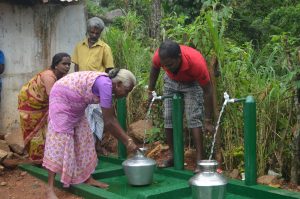 The problem
More than 21% of Sri Lanka's active population is employed in the various activities of the plantation sector, particularly the tea and rubber plantations. In spite of this, the workers live in deplorable sanitary conditions. Few of them are equipped with running water or have private toilets or near their homes. They are also unaware of the problems of hygiene and faecal risk.
In addition, waste management is also a serious problem as everyone throws garbage at their door, which largely contributes to a proliferation of diseases that often affect the most vulnerable people (children, pregnant women, etc.), without counting that it attracts dogs often carrying rabies. Moreover, the presence of these wastes seriously affects the quality of the environment and considerably pollutes the existing natural resources in the plantations.
Objectives / Activities
Address the significant needs in terms of latrines and access to water for poor workers in 4 plantations in Sri Lanka:
Construction of 394 latrines (970 beneficiaries)
Construction of 34 common showers for women
Construction of 9 water supply systems (956 beneficiaries)
Hygiene awareness programs
The construction of the equipment mentioned above was carried out during several projects implemented by PADEM since 2007.
Beneficiaries
Direct beneficiaries: 1,200 children and their familiesThe project is intended for tea plantation workers and their families living in extreme poverty. In total, this project represents approximately 13,600 beneficiaries