Provide sustainable access to water and improve the sanitary conditions of the inhabitants of the community of Agové in the prefecture of Avé in Togo
State: Completed | Number of beneficiaries: 803 people
Project duration: 1 year
Location: Community of Agové, Togo
Local partner
The first action of the NGO ACCP (Collective Action Against Poverty) was set up in 2014. Since this year, the NGO continues to mobilize to develop more projects each year: entrepreneurship training, development agro-pastoral, assistance to mothers of disadvantaged children, promotion of civic values, health, social, economic awareness, construction of educational infrastructure, access to drinking water and sanitation …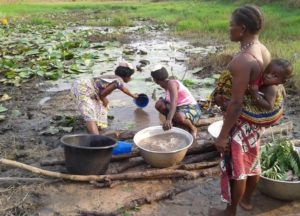 Context
Water pollution is a scourge and represents a very significant risk for the Togolese population. In rural areas, only 44% of the population has access to a source of drinking water. The water is polluted by excrement, garbage, domestic or industrial wastewater, pesticides. All these pollutants stagnate in surface water and lead to the proliferation of bacteria. These are the same waters that are drawn by the populations, to wash, wash their clothes, cook and drink. Women and children sometimes travel several kilometers every day to bring drinking water to the village.
Lack of access to sanitation also entails great risks for the health of Togolese communities. In rural areas, 91% of Togolese do not have access to basic sanitation. The lack of a health structure leads the populations to practice open defecation. The waste is consumed by the animals, it is drained by runoff to the waterways. Children sometimes play among this waste. These are vectors of diseases such as typhoid fever, cholera and parasitic diseases, and the entire population is exposed to them.
Access to drinking water and basic sanitation are among the founding pillars that ensure the emancipation of the most vulnerable populations and promote their development. A change in the behavior of populations and the construction of latrines and boreholes are therefore essential to safeguard the health of all. These actions will have an impact on the education of children, on the evolution of the status of women and will encourage the creation of income-generating activities.
The mission
General objective: Improvement of health and economic conditions in the community of Agové.
Specific objective: The school establishment and the community of the Village of Agové have improved their living conditions thanks to:
a sustainable drinking water service
a suitable sanitation system
the dissemination of good hygiene practices
the vocational training of women and young people in Agové.
Activities
Construction of two boreholes for access to drinking water
Construction of a block of 6 compost latrines
Creation of three Wash committees (one per structure) to ensure the management and maintenance of these new installations
Sensitization of beneficiaries to hygiene and health
Beneficiaries
803 people including 133 families will benefit directly from access to drinking water and basic sanitation