Protecting and enhancing children's rights through access to safe water and sanitation in Kisumu County
State : Funding in progress | Number of beneficiaries : 1 232 children, 45 teachers and school staff, and 5 000 members of communities
Project duration : 12 months

Location : Kuoyo Educational Primary and Secondary Schools in Kisumu West Ward, Kisumu County, Kenya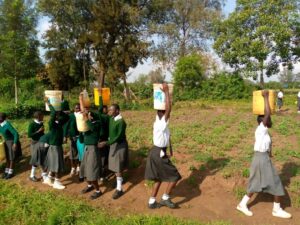 Local partner
African Network for the Prevention and Protection against Child Abuse and Neglect (ANPPCAN)
The African Network for the Prevention and Protection against Child Abuse and Neglect (ANPPCAN) is a pan-African child rights organization. It has observer status with the African Union and similar status with the African Commission on Human and Peoples' Rights.
With over 30 years of experience in child rights issues, the focus is on preventing the worst forms of child labour and rehabilitating children who are subject to it. Orphans make up over 40% of the enrolment in many primary schools and are the most vulnerable to exploitation and abuse. ANPPCAN has successfully carried out development projects targeting vulnerable children in Kenya, such as a water, hygiene, and sanitation project with PADEM in Homa Bay County. This project aimed to protect and strengthen the rights of children through access to drinking water and sanitation.
Context
Children in Kenya (0-18 years old) constitute more than half of the total population of 53 million people (Kenya National Census 2019), while 20% of the population is under 5 years old. Children are among the most marginalized and vulnerable members of Kenyan society, and therefore their rights, especially to health and education, must be safeguarded and protected.
Today, lack of access to safe drinking water and adequate sanitation continues to be a threat to human health in Kenya. Expanding access to safe drinking water, hygiene and sanitation facilities in schools is essential to reducing the burden of water-related diseases and improving the well-being of a large part of world population.
Kisumu County does not receive much attention from international and local non-governmental organizations, external donors, and public authorities in terms of development aid, and in particular with regard to WASH issues which need to be addressed.
Primary and secondary schools identified in Kisumu County face dire hygienic conditions due to water scarcity and lack of suitable infrastructure. Without adequate sanitation, children cannot access adequate education or avoid waterborne diseases, and their nutrition and health are affected.
The project to strengthen children's rights through access to safe water and sanitation therefore responds to the needs of children in terms of drinking water, sanitation and hygiene in primary and secondary schools in Kuoyo, through a human rights-based approach.
The mission
The general objective of the action is to improve the living conditions, particularly in terms of health and education, of the targeted children and communities living in Kisumu County, Kenya.
The project will contribute to the general objective by respecting and promoting the rights of children to education and health through better access to quality water and sanitation services at school, as well as hygiene education, formation of water management committees and formation of Child Rights Clubs.
Activities
The project plans to improve access to drinking water by installing adequate sanitation facilities in the two schools. This is ensured by :
The construction and installation of a solar water pumpclose to the school to provide drinking water to schoolchildren and residents of the community;
The installation of a water tank and 3 safe water supply points in each school;
The renovation and improvement of 18 latrines and 6 handwashing stations in schools.
The project also provides for the establishment of:
"Water and sanitation" committees to ensure infrastructure maintenance;
Hygiene education workshops for school children and the surrounding community;
A system for the sale of drinking water at low prices by the committees to ensure the maintenance of infrastructures and resupply schools with hygiene products.
The protection of children's rights is improved by:
The formation of Child Rights Clubs to involve children in discussions on access to drinking water and good hygiene, but also more generally on their rights;
Children's Aid offices available to children in both schools to respond to cases of violations of their rights and abuse.
Beneficiaries
6 277 people, including 1 277 direct beneficiaries:
451 children (213 boys and 238 girls) aged 5 to 14 in primary school;
781 children (400 boys and 381 girls), aged 15 to 19 in secondary school;
45 school staff and teachers from both schools.
The indirect beneficiaries are 5 000 parents and members of neighbouring communities.