The Concept
Employees of a company voluntarily donate some cents of their salary to a humanitarian project.
How does this work?
The Payroll Giving program takes care of everything, once it's installed !
Complete freedom
Payroll Givers may donate as much money as they want, alter the amount of money given or even stop if they choose to.
What Projects or NGOS am I supposed to support ?
Payroll Givers are free to choose between a variety of humanitarian Projects by NGOs situated in Luxembourg.
Avantages
| | | |
| --- | --- | --- |
| | | |
| Accessible : de quelques centimes à quelques euros, le montant est libre | Simple : tout est automatique, via le logiciel de Payroll | Avantageux : déductibilité fiscale, reçu fiscal émis en fin d'année avec le cumul des dons effectués sur l'année |
Totale liberté
Les Payroll Givers donnent ce qu'ils veulent, modifient le montant versé, et arrêtent quand ils veulent.
Pour quels projets quelles associations ?
Les Payroll Givers et l'entreprise choisissent le projet soutenu.
Le projet peut être un projet de l'ONG PADEM, ou de toute autre ONG et asbl luxembourgeoise.
Projets
Pour découvrir tous nos projets et comment fonctionne le Payroll Giving, visitez le site dédié à ce dispositif innovant : www.payroll-giving.lu
How much does it cost?
Absolutely nothing! They will be no extra charges for Payroll Givers or the company.
CSR Corporate Social Responsibility
Payroll Giving makes it easy to uphold the ethical standards of the company and contribute to a good cause of your choice.

How do I get Payroll Giving?
If you are interested in Payroll Giving, please contact us (info@payroll-giving.lu), who will set up the Payroll Giving for the company you work for and help you choose the project to support.
The configuration of Payroll Giving for companies and trustees using payroll softwares APSAL (Proximus Telindus Tango) and KeyPaye (Partenaires Sociaux, itself member of Payroll Giving for its own employees), is very simple : a checkbox and Payroll Giving feature is activated !
In case your company is using a different software than ASPAL, PADEM helps you with the setup.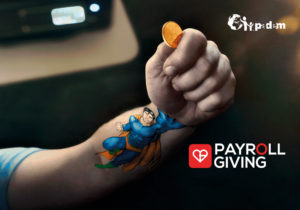 An Initiative of PADEM, Payroll Giving 2015, All Rights Reserved.