"Living conditions in the South: consequences for the future of children"
Since 2014 PADEM has made a commitment to the Luxembourg Ministry of Foreign Affairs to intervene in the field of education for sustainable development in schools in the Grand Duchy. PADEM raises awareness among young people about living conditions in the South and their impact on the future of children. The proposed workshops aim to educate future informed and responsible citizens ready to tackle the injustices in the world.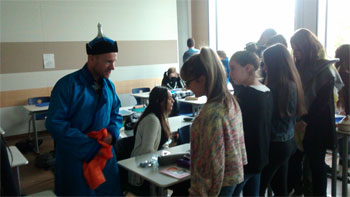 PADEM offers to teachers, educators or all other interested persons the opportunity for workshops , as well as the availability of pedagogical kits, on the following themes:
Children's Rights Workshop: This workshop aims to raise awareness about the rights of children and to demonstrate children's everyday lives in other countries.

Games make the workshop interactive and help students to better assimilate the material.

The issue of disability is integrated in several places.

This workshop is aimed at an audience of pupils aged 8 to 12 and a group of 10 to 25 people.

Workshop "My life in Sri Lanka": The workshop aims to familiarize young people with the living conditions of families living in tea plantations in Sri Lanka.

Through activities and games students learn the differences between their own lifestyles and those in Sri Lanka.

The target students are between the ages of 10 and 19 and the workshop is in groups of 9 to 25 students.

Workshop "Child labor": The main objective of this workshop is to raise awareness about child labor.

This workshop can be seen as an extension of the workshop on children's rights.

It is suitable for an audience of 9 to 12 years and a group of 10 to 25 students.

Workshop "A future without water": The workshop allows a first an introduction to the theme of water and the problems that come with it.

Students will learn why and how water, which is a rare commodity in some parts of the world, can be saved.

The workshop also aims to introduce the subject of North-South inequality.

The workshop targets very young children aged 7 to 12 and groups of 5 to 15 children.*

Workshop "Equal Opportunities": This workshop aims to familiarize young people with the notion of equal opportunities.

This theme is left voluntarily general and can serve as a first introduction to more specific subjects such as gender equality, North-South equality etc.

The workshop is designed for an audience of young people aged 12 to 18 and for groups ranging from 10 to 25 people.
Additional information
Information on educational kits:
For borrowing or questions about kits or workshop materials, please contact Pascal Hus (pascal.hus@padem.org).
Additional Information for teachers wishing to deepen the subject are also available.
Interested in PADEM intervention in your classes?
Do not hesitate to contact us directly, to discuss the possibilities of an intervention in your school.