Enable the social and family reintegration of 20 street children in Lomé, Togo
State : Funding | Number of beneficiaries : 60 beneficiaries including 20 children
Project duration : 1 year
Location : Lome, Togo
Local partner
The first action of the NGO ACCP was carried out in 2014. Since then, the NGO continues to mobilize to develop more projects each year: training in entrepreneurship and income-generating activities, in particular to promote autonomy. of women, assistance to mothers of disadvantaged children, promotion of civic values, health, social and economic awareness raising, construction of access to drinking water and sanitation, agro-pastoral development, and many others.
In its fight against poverty in Togo, ACCP also works with the most vulnerable children and young people and / or orphans. ACCP carries out actions in the fields of education, children and youth: rehabilitation of schools and schooling for children, support for vocational training and the integration of young people, food aid to families to fight against child malnutrition, psychological support …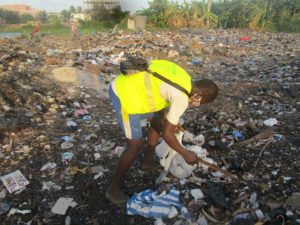 Context
The phenomenon of street children in Togo has continued to worsen in recent years. In 2020, the country had nearly 7,000 children left to fend for themselves in the streets, half of them (3,000) in its capital, Lomé.
The main causes are linked to family poverty or the breakdown of families (blended families, remarriages, death of a parent), lack of parental supervision and violence against certain children. , phenomena all the more reinforced by the absence of public policies allowing the care of these children or the prevention of these situations, and also by the current health crisis.
This scourge represents a real risk for these children. Left to their own devices, they are deprived of their basic human rights: poor or non-existent access to hygiene and care, malnutrition, rupture with the school system. Living conditions that expose them to multiple dangers such as street violence or even illnesses due to unsanitary conditions. To survive, some turn to underpaid and difficult odd jobs for which they are often exploited (economically and sexually) and abused. Others steal, falling into delinquency, violence and drugs.
The break with school also has important repercussions. Young girls are at risk of early pregnancy and sexual violence. Children and young people with deviance. In addition, without training, these children / young people are at greater risk of unemployment, financial insecurity, social isolation and poverty as adults.
Access to secure and qualitative living conditions is a founding pillar to ensure the proper development of Togolese children. The care and support of these street children are essential to enable them to find a structured and optimal family environment, and so that they can grow up and evolve in the best conditions.
The mission
General objective: Improve the living conditions of street children in the city of Lomé.
Specific objective: Enable the family and social reintegration of 20 street children in Lomé, thanks to:
Legal, health and social care for 20 children
Temporary accommodation with host families for 20 children
Education / training / awareness.
Activities
Social survey and identification of street children and their parents / legal guardians, and 20 foster families.
Raising awareness among the 20 host families on the appropriate support for the children received and support for these families: provision of food, funds for the care of children, etc.
Medical and psychological follow-up of children who need it the most, help to obtain identity papers for those who do not have one.
Professional training for 20 parents / legal guardians of children, provision of micro-credits and follow-up / advice in the development of an IGA (income-generating activity).
Evaluation of the living conditions and autonomy of the 20 parents / legal guardians and their ability to take charge of their child (ren), possible family reintegration of the children if the conditions of the parents / legal guardians allow it, and reintegration monitoring.
Beneficiaries
In all, 60 direct people will benefit from the implementation of this project:
20 street children
20 host family managers
20 parents / legal guardians of children.
Indirectly, all of the members of the host and biological families, ie around 320 people, will be affected by the project and will benefit from its implementation. Host families will participate in various capacity building activities (sensitization, educational talks and training) in order to broaden their knowledge of the rights and duties of children and to have the tools to take care of them. Parents / legal guardians will also benefit from support to develop income-generating activities and better meet the needs of their children.