Support for the Learning and Therapy Center for Children with Autism
State : in the course of financing | Number of beneficiaries : 50 children
Duration : 2018/2019, 12 months
Location : Pondicherry, India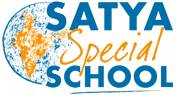 Local partner
Satya Special School is a non-profit organization created in 2003 that develops a wide range of care and support for children and young adults with disabilities who have special needs. Thanks to its numerous facilities, support methods and training programs, Satya has developed an expertise in the care of children and young adults with disabilities, whether they have autism, trisomy 21, cerebral palsy, mental retardation or multiple disabilities. Satya conducts therapies such as physiotherapy, speech therapy, music therapy, hydrotherapy, yoga, group therapy, dance therapy, play therapy, and of course, professional training programs for the employees and parents.
The problem
Currently, the needs of autistic children in India are not met, whether if it's in the regular or the specialized education system. With an understanding teacher or with extra help, an autistic child with abilities can very well succeed in a regular school, and gain valuable social skills through his peers. Yet even children with very a very high IQ are rarely admitted to regular schools.
Children who need more support, who make up the majority of children with autism, need to attend special schools, but these often lack knowledge of effective methods of coping with the challenging behavior of children with autism. Admission to these special schools is often denied to them, because employees are not able to care for autistic children, who are sometimes more difficult to care for than children with mental retardation. It is therefore necessary and urgent to open specialized centers.
This project is a follow-up to the successful project between SATYA and PADEM in 2016 when the center for children with autism opened.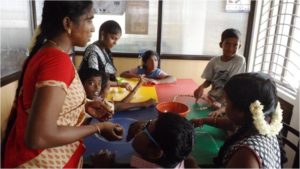 Objectives
The overall objective of the project is to promote the integration of children with special needs into society.
The specific objectives are:
-propose a training-program and therapies adapted to 50 autistic children of Pondicherry allowing them to develop their capacities and their independence
-change the perception of their loved ones and society about autism and disability.
Activities carried out
Development of teaching programs and therapies based on academic subjects such as oral language, basic arithmetic, reading but also speech therapy, sensory integration, behavioral modification, etc. leisure activities (dance, yoga, musk etc.) are also included in the programs.
Development of parental support program and monthly training for parents
Training for new techniques of care for autistic children for employees of the center
Beneficiaries
Direct beneficiaries:
-50 children between 0 and 15 of age with autistic disorders
– their parents and their relatives
Indirect Beneficiaries:
-the population of Pondicherry through awareness of the issues of autism and the change of outlook on people with autism