Creating model inclusive schools in Ulan Bator city with collective approach
State : Funding | Number of beneficiaries : 3 schools, including one student with a disability per school
Project duration : 1 year
Place : Ulaanbaatar, Mongolia
Local partner
Intellectual Children NGO was founded in 2013. The NGO aims to support the education of children with disabilities and other vulnerable groups and to help ensure their active participation in society through educational activities. This NGO has started to focus on inclusive education for children with disabilities since 2019, working to improve the learning environment, as well as developing an individual education plan for children with epilepsy and autistic disorders.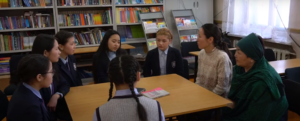 Context
In Mongolia, people with disabilities are more likely to be poor due to physical, financial and cultural barriers limiting their access to education and skills development. As a result, they have less access to good jobs and other forms of social inclusion. Among Mongolian people with disabilities of working age, less than one in five (19%) is employed and one in five has not completed any level of education.
The root causes of barriers to education for children with disabilities include (i) limited physical access to schools and a lack of inclusive educational materials and tools; (ii) poor quality education for children with disabilities due to lack of teacher capacity in mainstream schools, lack of teaching and learning materials and outdated curriculum; and (iii) inadequate support from community services and schools for inclusive education, due to negative parental and community attitudes and lack of understanding.
The mission
The project aims to create model inclusive schools in Ulaanbaatar city with a collective approach and strengthen the public attitude toward children with disabilities through training and advocacy work
Activities
Establishment of support teams in the three targeted schools, which will be able to develop and implement individual education plans for each child.
Offer trainings to teachers and school staff to improve the quality of teaching in the three targeted schools.
Offer training to other students from the three schools and their parents, in order to improve community engagement around disability in schools.
Promote the results of the project through round tables with decision-makers (Ministry of Education and Science, Metropolitan Department of Education, Teacher Development Institute, etc.) and through a documentary video that will be produced during the implementation of the project.
Beneficiaries
In order to create an inclusive school model, the project will take the example of 3 children with different types of disabilities. Thus, the model could be applicable to a total of 46,449 children with visual (11,871), hearing and speech (12,768) and physical (21,810) disorders.